Surprise your boyfriend on your anniversary!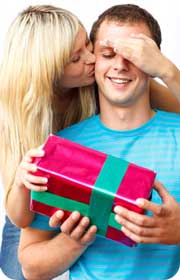 If you've been dating a month or 20 years, it's so sweet to celebrate the time you've shared together, and to show your boyfriend how much you appreciate the wonderful person that he is and mark the time you've spent together.
You may wonder though, what can you get him for your anniversary? Men tend to be harder to buy for than women, they don't appreciate sentiment as much as we do. For those guys, may we suggest the following?
A sporty or dressy new watch. Drop some clues and find out the one he may want, or check fashion magazines for the latest trends. Or buy a finer gold or platinum watch, and have it engraved with your names and dates.
Tickets to his favourite sports venue. Purchase two tickets and you may be pleasantly surprised that he wants you to attend with him. If not, let him enjoy a boy's night out later on, he will love you for that!
If he's into cars or motorcycles, there's nothing a man loves more than to get new gadgets for them. How about a parts catalog and a gift card? Trust me, they'll love you forever for this gift!
Some guys really are sentimental, and want to celebrate the time you two have had together. There are lots of sentimental things you can get for your boyfriend for your anniversary, If you would like, you can follow the traditional wedding gifting - first anniversary is paper, fifth is wood and so forth, or try these romantic and sentimental gifts.
How about a photo session with you both to mark the occasion? Not only classy and great, but a keepsake for a lifetime.
Contrary to belief, many men do love jewelry. A nice chunky gold ring, or heavy gold chain may be what he would love.
A personalized item is always lovely and appreciated by both of you. A silver plate or challis commiserating the date you two met, or a personalized picture frame with that date.
And as always, you may be the gift he wants the most on your anniversary. Perhaps a nice dinner out is a truly elegant to mark the special occasion. Make reservations at the finest steak or seafood house in town, and hire a limousine or driver to make it fun and memorable. Or better yet, cook a romantic dinner for two at home. If you aren't a good cook, take out will work fine, or hire a chef for the night. Use low lighting, good wine and soft music to create the mood. He will love it!
Really, anything that is appropriate for a wedding anniversary will work for your time together, there are no restrictions or limits on this celebration of your love and time spent together. Your boyfriend will truly be surprised, and what a lovely gesture on your part. You will both have a special memory of this night and he will love you even more!